On October XNUMX, XNUMX, a large Spanish sailing ship was washed ashore in Iwawada, Onjuku-cho.The Age of Discovery was a time when Western European countries crossed the ocean and developed in search of many new lands.In Japan, it was in the early Edo period when the Tokugawa Shogunate was established.How did Ieyasu Tokugawa, who achieved the unification of the world, interact with the great powers of the time, such as Spain and Great Britain?The historical novel "Ieyasu and Don Rodrigo" (November XNUMX, XNUMX, Tomiyamabo International Publishing) is from the perspective of Don Rodrigo, the temporary governor of Manila, a Spanish Mexican aristocrat who landed in Onjuku-cho. In the sequel "Ieyasu's XNUMXth Year Ieyasu Decision" and "Ieyasu's Last Great Game" (serialized in the literary doujinshi "Maki"), Ieyasu confronts the Western powers who are trying to capture East Asia. Ieyasu's diplomatic policy is spun in connection with Christian mission and foreign trade.Both have distinctive themes and hypothetical stories based on historical facts, which are popular from all sides.We asked Mr. Shizue Kishimoto (XNUMXs), the author who lives in Ichihara City, about the production.
The edge of Spanish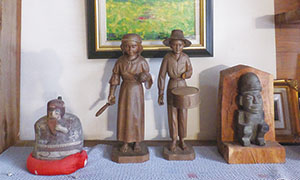 Mr. Kishimoto lives in Tsurumai, Ichihara City with his master, Kyoichi Kishimoto, who is a ceramist.He has written many books such as translations, novels, and essays, and served as a selection committee member along with author Makoto Shiina and others at the "Reclassification Diary Millennium Literary Award" held by Ichihara City last year.In fact, he has been serializing the essay "Mexico as I lived" for three years from XNUMX at our newspaper City Life.This time, Mr. Kishimoto wrote "Ieyasu and Don Rodrigo" because he has been involved with Spanish since he was a student. "When I was in college, I majored in Spanish and graduated from Mexican literature. Since Japanese overseas travel was liberalized while I was in school, three girls from the same university went to Los Angeles by boat and spent half a year in the Spanish-speaking world. I traveled south of Central and South America to Chile. The figurines I bought locally at that time are still displayed in my living room, "he says cheerfully.After graduating, he was in charge of an announcer for overseas broadcasting in Spanish and news translation at NHK International Bureau and Jiji Press, and married his husband who was a high school world history teacher. "However, my husband is interested in the cultures of each country from the world history, and he is devoted to Chinese ceramics and celadon and becomes a ceramist." Mr. Kishimoto decided to go to Latin America and Mexico again. Was requested by JICA (International Cooperation Agency) to establish "Truca Ceramics School" as a ceramic art expert. "Spanish is the official language of Mexico. One of the reasons for the request was that I could interpret, and it was because I was the one that her husband took over."At that time, Onjuku Town was already a sister city of Acapulco, one of Mexico's leading tourist destinations, due to the drifting of Rodrigo.At that time, she received a gift from the mayor of Onjuku to the mayor of Acapulco, and Mr. Kishimoto unexpectedly became involved with the town of Onjuku.
A story inspired by historical facts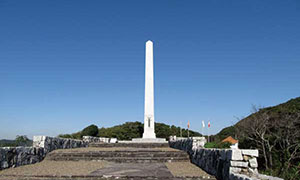 Mr. Kishimoto, who stayed in Mexico with his family for two years and returned to Japan, turned his attention to the history of Ichihara and Chiba prefecture when he had time for himself. "At that time, I was attracted to Don Rodrigo. If you want to know more about him, Spanish literature is essential. I stayed in Mexico, searched Spanish literature, and lived in Chiba prefecture and was related to Rodrigo in Onjuku. I have been to historic sites many times, and I felt that he had a strong connection, and I thought that I would not investigate this in earnest. " Is not just a coincidence. " "The ship that came to Onjuku is actually from Manila to Mexico. It is very likely that Rodrigo will be wrecked during the typhoon season, even though it must depart from late May to early June due to the wind direction and tidal current. It's high in late July. Moreover, even a Japanese interpreter is on board. If you go back to Mexico, you shouldn't need a Japanese interpreter. "Maybe he met Ieyasu in Japan and deliberately planned to drift to Japan in order to strengthen the relationship between Mexico and Japan, to benefit his home country Spain, and to realize his dream of traveling to Japan.The bold hypothesis tells the story of a half-life Mexican nobleman who longed for Japan, ending when he left Japan. "Ieyasu recommended trade, but in the end he turned to seclusion. How Ieyasu sought and changed by interacting with people from European countries such as Don Rodrigo. I'm writing a sequel. History is a big flow. It's interesting because it can be seen from various perspectives, and it can be a different story depending on what you researched. By publishing this book, various people such as Kunoyama Toshogu I was happy to have a new connection with him, "said Mr. Kishimoto with a smile.
・ Book "Ieyasu and Don Rodrigo" tax-included XNUMX yen ・ Literature douujinshi "Maki" No. XNUMX ・ XNUMX yen each Inquiries: Mr. Kishimoto Tel.XNUMX ・ XNUMX ・ XNUMX
● Book present! "Ieyasu and Don Rodrigo" and the literary douujinshi "Maki" No. XNUMX, one for each.Postcard, fax, email to City Life book presenter. XNUMX/XNUMX deadline.Address: XNUMX-XNUMX Goi, Ichihara XNUMX-XNUMX Fax. XNUMX-XNUMX-XNUMX mail: kiji@cl-shop.com